alternative energy
Posted March 25th, 2011 by phil
New Energy Technologies, Inc. (OTCQB: NENE, NENED-temporary), a developer of next-generation alternative and renewable energy technologies, is pleased to announce the addition of global energy experts and clean tech executives, Mr. Peter C. Fusaro and Mr. Todd M. Pitcher, to its Board of Directors.
Energy and Environmental Project Finance Law and Taxation: New Investment Techniques provides practitioners with a useful and comprehensive discussion of energy and environmental project finance as it is developing and where it is going in light of new legal and tax rules. This is the first time that internationally recognized lawyers and economists share their knowledge, expertise, and insights in this important and growing industry. Energy and Environmental Project Finance Law and Taxation examines cutting edge techniques and analyses the recent tax and legal developments coming out of Washington, all of which are revolutionizing the investment in and financing of energy and environmental projects. Written for practitioners and laymen alike, Energy and Environmental Project Finance Law and Taxation arms the reader with crucial knowledge about structuring and financing conventional, renewable, green financing, and alternative energy projects. It addresses carbon financing, green power, and traditional and new technologies, including nuclear power, wind, photovoltaic, solar, geothermal, biomass, and the new generation of nuclear power. This book also addresses the risks involved in structuring and financing these new technologies; ways to hedge these risks; and how to monetize the tax credits available for renewable energy projects.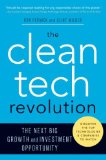 $27.70 (Hardcover)
published by Collins Business, 2007
In The Clean Tech Revolution, authors Ron Pernick and Clint Wilder identifythe major forces that have pushed clean tech from back-to-the-earth utopiandream to its current revolution among the inner circles of corporateboardrooms, on Wall Street trading floors, and in government offices aroundthe globe. By highlighting eight major clean-tech sectors - solar energy,wind power, biofuels and biomaterials, green buildings, personaltransportation, the smart grid, mobile applications, and water filtration -they uncover how investors, entrepreneurs, and individuals can profit fromthis next wave of technological innovation. Finally, Pernick and Wildershine the spotlight on the winners among technologies, companies, andregions that are likely to reap the greatest benefits from clean tech-andthey show you why the time to act is now.
Interview with Peter Fusaro about new alternative energy markets in India.