environmental hedge funds
Are you prepared for the expansion of energy and environmental trading into the global financial markets? These growing markets are rife with trading and legal risks. This book, written for practitioners and laymen alike, will arm you with crucial knowledge about recent significant market, regulatory and legal developments. Ranging from the fallout from Enron's bankruptcy and the near demise of energy merchant trading to the expansion of energy and environmental trading (after legal and regulatory changes provided new opportunities along with new industry challenges), to the new contractual frameworks seeking to address issues such as climate change, this book's discussions of these new energy and environmental markets and their developing framework of corporate, regulatory, tax and financial law show history in the making. Leading legal and industry professionals share their knowledge, experience, and opinions, providing key insights into the future of the law and regulation of energy and environmental trading. These experts delve deeply into themes such as energy regulation, trading documentation, bankruptcy law, creditors rights, U.S. tax law and much, much more.
Energy deregulation, privatization and competition are a hot internationaltopic. Professionals in this field understand the importance of hedgingtheir financial risk, but are often unclear how to do so. The result isthat either they take undue and unwarranted risk or they shy away fromfutures and derivatives investments that could improve their financialposition while preventing substantial losses. Energy Risk Management isthe first book to address the important issues of worldwide energy pricerisk management. Peter C. Fusaro has assembled the leading industry figuresto explain general theories and practices for hedging risk, and specificmethods to effectively manage risk in markets such as coal, natural gas,electricity, hydropower and others.
This book focuses on the latest developments in the Asia-Pacific community in terms of how deregulation and privatization are bringing more risk to energy companies.
The markets might be acting as if the energy play is over but people in the know say don't count on it. On this week's Consuelo Mack WealthTrack three energy experts discuss the investment opportunities still available in traditional and alternative energy. One of the top ten fund managers of the decade, Dan Rice of the BlackRock Global Resources fund, and two energy thought leaders, Bill Paul of the cutting edge energy website, EnergyTechStocks.com and Peter Fusaro, Chairman and Founder of Global Change Associates.
Peter Fusaro of Global Change Associates, recorded at the Wall Street Green Trading Summit, April 16-17, 2007, New York City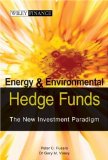 Energy & Environmental Hedge Funds: The New Investment Paradigm
$112.00 (Hardcover)
published by Wiley, 2006
As the world's energy markets continue to grow, there is a growing need for professional literature on the subject. Sustained higher energy prices are now driving investment interest at an unprecedented level into the energy sector and that is spilling over into the clean technology and environmental financial markets. Energy and Environmental Hedge Funds: The New Investment Paradigm is the first book to cover the universe of energy hedge funds by strategy and to discuss the significant opportunities that they are responding to, not just in energy and energy-related commodities, but across the energy industry in general including equities, debt, assets, alternative energy, carbon and emissions trading, 'green' plays, and arbitrage.